Legendary Race Announcer Tom Durkin!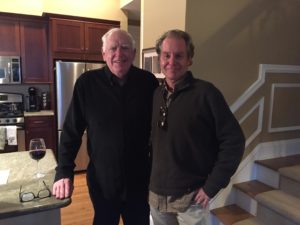 This week on Teaching in the Arts, Tom Durkin, the legendary horse race announcer.  Close listeners  to the podcast will know my love of horse racing, and especially horse race announcers.  You have also heard me talk about making a documentary film where I interview race announcers, and will call a race myself- good, bad, or otherwise.
That brings me to this week's episode.  In November, I traveled to Saratoga Springs, NY where Tom Durkin was kind enough to allow us into his home for an interview.  In my film, Tom acts as my mentor- giving me tips, pointers and sharing his knowledge. After I call my race he will review me.  But in the film, I will only use a small portion of my interview with him, so I have decided to run the interview as an episode of the podcast.  It fits because in the interview, Tom teaches me.
He not only gives me valuable pointers on how to call a race, but we talk about the hard parts- the stress of the job, how he used hypnosis to help him out, how his career began on a lie (told by someone else). And he talks openly about the 2009 Kentucky Derby, where he   was caught by surprise with the late charge of Mine that Bird.  Watch for yourself here- the final 25 seconds of the race, and listen to Tom and I discuss.

As part of my film I shot a recreation- something I have wanted to do, but never had the opportunity.  On Saturday Dec. 1, I recreated Sunday May 2, 1971 as I jumped into my parents bed and "called" the Derby from the day before.  Here are some production stills, but thanks to my friend Amy Rising for playing my mom, Isaac Zumann as Peter, and Keith Kelly as my dad.  And thanks to all my great crew, Vedran Residbegovic my D.P., Killian Heilsberg (guest number 3 on Teaching in the Arts), Betsy Finn my hair and make up artist, and my pal Normann Pokorny who came along as support, and who took all these pictures.  It was a great day, and when my film is complete, you will see the recreation- 4K HD looking like 16mm and 8mm film.
Here are some photos from the shoot.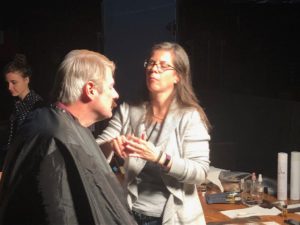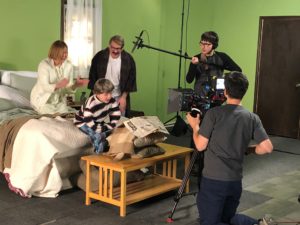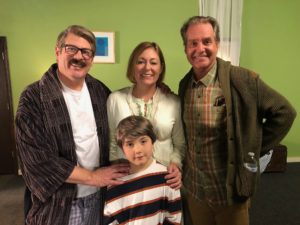 And if you want to see  a snippet of my film, and an announcer in action, here is John Dooley, announcer at Arlington International Race Course and the Fairgrounds in New Orleans in action.
This is the last episode of Teaching in the Arts for the calendar year.  Winter break time, back in January with all new episodes.  Listen to me and Tom Durkin here:

Teacherman